Matthew West Announces 32-City 'My Story Your Glory Spring 2023 Tour'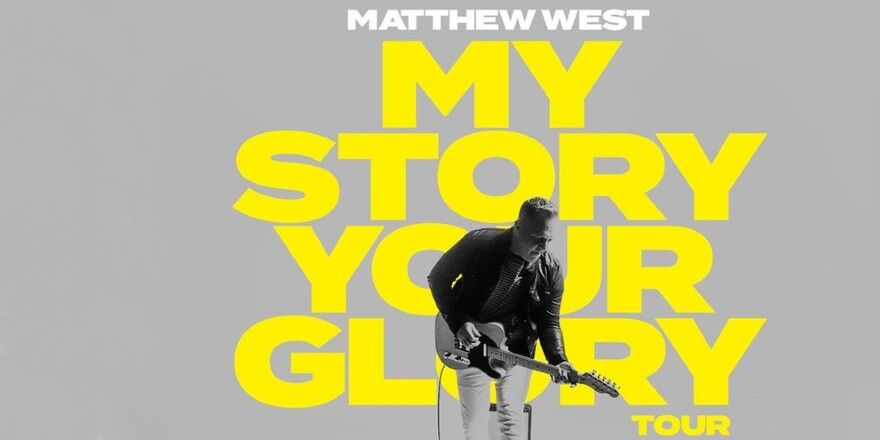 Multi-GRAMMY® nominated artist Matthew West will embark on his headline tour, "My Story Your Glory," to 32 cities across the country next year. Beginning in February at Decatur, Illinois, the tour will span much of the United States and most of spring 2023; ending on April 30 in Longview, Texas. The tour will also feature special guest former Third Day vocalist Mac Powell on select dates. See the entire tour schedule below.
"I am so excited to announce the 'My Story Your Glory tour,'" states Matthew West. "This will be unlike any concert I've done before with a concept I've been dreaming up since the day I began writing the songs for this double album. The first album, My Story, is all about telling the stories of our lives. The second album, Your Glory, is my first-ever worship album. I'm excited to bring both to the stage as well as all the songs from the radio, and I can't wait to worship with all of you in spring 2023!"
Mixing new music from his upcoming double album, My Story Your Glory, with old favorites, West is planning on bringing his story-telling style to the stage. For example, the first part of this new project, "My Story," embodies the countless stories fans have shared with the songwriter over the years and the importance of keeping God at the forefront of our everyday lives. Part two, "Your Glory," is the first full set of vertical, worship songs that Matthew has written for one of his records.
Thu, Feb 23 - Decatur, IL
Fri, Feb 24 - Beatrice, NE (Lincoln)
Sat, Feb 25 - Jonesboro, AR
Sun, Feb 26 - Somerset, KY
Thu, Mar 2 - Aiken, SC (Augusta)
Fri, Mar 3 - Fort Pierce, FL
Sat, Mar 4 - Destin, FL
Sun, Mar 5 - Gadsden, AL
Thu, Mar 9 - Beckley, WV - with Mac Powell
Fri, Mar 10 - New Castle, DE - with Mac Powell
Sat, Mar 11 - St. Marys, WV - with Mac Powell
Sun, Mar 12 - Brunswick, OH (Cleveland) - with Mac Powell
Thu, Mar 16 - Siloam Springs, AR - with Mac Powell
Fri, Mar 17 - Fort Worth, TX - with Mac Powell
Sat, Mar 18 - Bethany, OK (Oklahoma City)
Sun, Mar 19 - Conway, AR (Little Rock) - with Mac Powell
Thu, Mar 23 - Dunn, NC - with Mac Powell
Fri, Mar 24 - Milton, PA
Sat, Mar 25 - Virginia Beach, VA
Sun, Mar 26 - Lenoir City, TN (Knoxville) - with Mac Powell
Thu, Apr 13 - Dayton, OH - with Mac Powell
Fri, Apr 14 - Zeeland, MI (Grand Rapids) - with Mac Powell
Sat, Apr 15 - Archbold, OH - with Mac Powell
Sun, Apr 16 - Newburgh, IN (Evansville) - with Mac Powell
Thu, Apr 20 - Cedar Rapids, IA - with Mac Powell
Fri, Apr 21 - Crystal Lake, IL (Chicago) - with Mac Powell
Sat, Apr 22 - Green Bay, WI - with Mac Powell
Sun, Apr 23 - Oak Creek, WI (Milwaukee) - with Mac Powell
Thu, Apr 27 - Pineville, LA (Alexandria) - with Mac Powell
Fri, Apr 28 - Corpus Christi, TX - with Mac Powell
Sat, Apr 29 - San Antonio, TX - with Mac Powell
Sun, Apr 30 - Longview, TX - with Mac Powell