Danny Gokey Launches "Jesus People" Spring Tour with Jordan Feliz And Blanca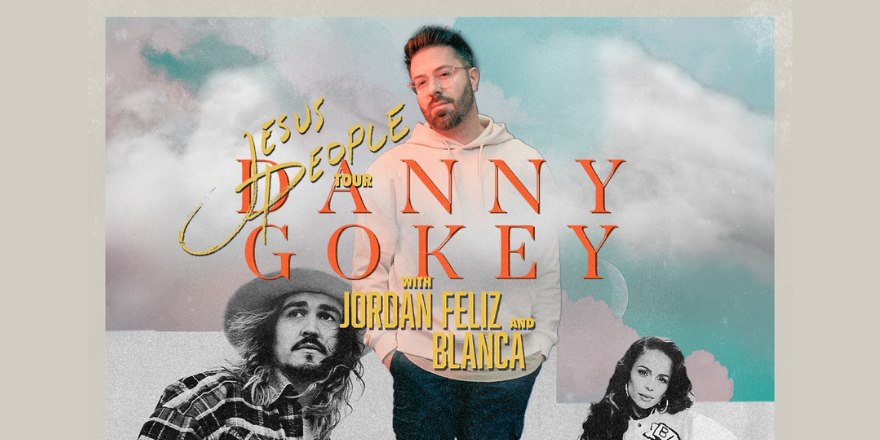 Three-time GRAMMY® nominee and American Idol alum Danny Gokey kicked off his 25-city "Jesus People" Tour on February 16 in Jacksonville, FL, and will wrap on March 26 in Memphis, TN. Special guests Jordan Feliz and Blanca will join Gokey for 26 dates. Gokey's "Jesus People" Tour is a continuation of the successful fall run, which sold-out six dates.
"I can't wait to head out on this spring leg of the Jesus People Tour!" says Danny Gokey. "What I love about Jordan and Blanca is that we're all aligned with a similar heart for ministering to and encouraging believers to be the light that God has called us to be in the world around us!"
"I am so excited to head back out on the second leg of the Jesus People Tour," shares Jordan Feliz. "Being out with Danny and Blanca is gonna be so fun! I know we are so excited to see all that the Lord is going to do every single night. Grab tickets and come worship the creator of the universe with us!"
Blanca adds, "On the top of my list of people I would love to tour with are Jordan Feliz and Danny Gokey, so you can imagine my excitement when I heard that I would get an opportunity to tour with them. This tour is going to be incredible!! I am such a fan of both artists and I know for a fact the night will be filled with such good music and encouraging messages that will lift up the name of Jesus and bring hope to all of our hearts. So honored that I get to be a part of it!"
TOUR DATES (*indicates "Bus Stop")
2/16/2023 | Jacksonville, FL
2/17/2023 | Ft. Lauderdale (Boca Raton), FL
2/18/2023 | Port St. Lucie, FL
2/19/2023 | Atlanta (McDonough), GA*
2/23/2023 | Wichita, KS
2/24/2023 | Odessa, TX
2/25/2023 | Houston (Webster), TX*
2/26/2023 | Dallas (Sunnyvale), TX*
2/28/2023 | Denver, CO
3/2/2023 | Scottsdale, AZ*
3/3/2023 | Redlands, CA
3/4/2023 | Spring Valley, CA*
3/7/2023 | Las Vegas, NV*
3/9/2023 | Sacramento, CA*
3/10/2023 | Salem, OR - SOLD OUT!
3/11/2023 | Tacoma (Puyallup) - SOLD OUT!
3/12/2023 | Coeur d'Alene, ID - SOLD OUT!
3/16/2023 | Omaha, NE
3/17/2023 | Minneapolis (Burnsville), MN*
3/18/2023 | Minneapolis (Burnsville), MN - SOLD OUT!
3/19/2023 | Milwaukee (Oak Creek), WI*
3/24/2023 | Cinncinati (Mason), OH*
3/25/2023 | Winston-Salem, NC
3/26/2023 | Memphis, TN