6 Ways to Pray for Your Daughter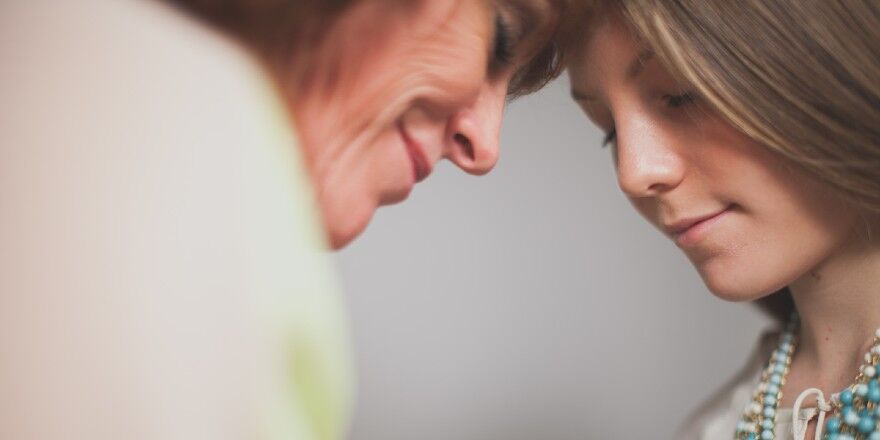 By Michelle S. Lazurek, Christianity.com
Ask for her prayer requests and let her know you're praying for her regularly. As you ask her for her prayer requests, you will notice your communication with her increase. Prayer can be the glue that bonds you and your daughter together for years to come.
Having a child is a special gift from the Lord. Psalm 127:3 says, "Children are a gift from the Lord they're a reward from him." While it is important to pray for your children, praying for your daughter is especially important.
From society's expectations of women to the sexualization of young women, it is more important than ever to pray for your daughter.
As parents, with societal and financial burdens placed on them, it's easy to neglect to pray for your daughter as much as you could be. It's never too late to start praying for your daughter on a regular basis.
If you are new to prayer and don't know how to get started, here are six ways to pray for your daughter.
1. Her Salvation
With young people leaving the church in droves, it is more important to pray for her salvation than ever before. It was not enough to simply take her to church on a regular basis. While these are important parts to spiritual growth, it is your daughter's choice in the end to follow the Lord.
Matthew 7:21 says, "Not everyone who says to Me, 'Lord, Lord,' will enter the kingdom of heaven, but only he who does the will of My Father in heaven."
We might be very surprised by who we see in heaven and who we don't. It is one thing to say all the right things; it is quite another to demonstrate the love of Jesus through actions.
Pray and ask the Lord to reveal to you if your child is merely saying that she's saved or if she truly is saved. Ask the Lord to speak to her in such a way, or she would accept his invitation for salvation.
2. Her Future Spouse
Paul makes it clear in 2 Corinthians 6:14, "Do not be yoked together with unbelievers. For what do righteousness and wickedness have in common? Or what fellowship can light have with darkness?" This is especially true for the marriage relationship.
It is not enough to marry simply because they love each other. Love is a fickle feeling that changes with circumstances and with age. Pray that the Lord gives your daughter someone who will love her even in the darkest of times.
Love deepens in its maturity. With young people so quick to divorce today, she will need someone who will stick by her side no matter what.
It is also important that your daughter and her future spouse feel called to marry one another. It is when times get the toughest that that calling will become so important. If your daughter is young, pray now for God to reveal her future spouse if that is God's will for her and her choice.
If your daughter is older, use discretion and host open and honest conversations about the people she wants to date. Ask her the reasons why she wants to date a particular person. It is not enough for a person to merely be interested in church or come from a religious background.
People who are hungry for the Lord make that hunger apparent. Even if things change down the road, pray God brings someone into her life who will give himself up for her the way Christ gave himself up for the church.
3. Her Future Children
Not only can you be praying now for her future spouse but also be praying for the future children she will bring into the world if that is God's will for her and her choice. Your grandchildren will be the next generation that will carry on the gospel message.
A good foundation now will be better for your grandchildren years from now. If your daughter is young, it is not too late to instill a godly foundation. If you have not gone to church regularly, it is never too late to start.
Find a church with a good children's program so your daughter can hear about the lessons from the Bible that she can apply to her life today.
If your daughter is older, find a good youth program or young adult fellowship where she can be around like-minded individuals. Children live what they learn. The chances of her instilling those same values in her children increase if you provide a good foundation now.
4. Her Friends
Bad company corrupts good character. When your daughter gets older, she will seek advice and help from her friends rather than from you. Although this is a normal part of independence as she transitions to adulthood, your influence in her life will decrease as the years pass on.
It is important she is surrounded by strong Christian people that hold the same moral values as you do. Children often choose friends based on who likes them or to increase their social status at school. However, these people may not be the best influence on your daughter.
Additionally, you may find people with poor character located even within your local youth group. Ask God to give you discernment and exercise that discernment to help your daughter choose her friends.
There may be times when you have to say no to her having a friend that you don't approve of. Although it will be painful because she will not like this, in the end, it will pay in dividends as your daughter finds a group of people who will spur her on toward love and good deeds.
5. Her Finances
Children have two different personalities when it comes to money. They can either be savers, or they can be spenders. It is important when they are young to teach them how do you use money wisely.
It is important for them to understand how to prioritize money in a healthy way, so they do not make decisions based on a lack of finances. Teach them to tithe from an early age. Giving to causes other than themselves will help them to be others-centered when it comes to their money.
Help them choose their first job or occupation that will help build them a career in the future. Help them understand that working is not just about making a living. It's also about living out your God-given purpose and calling.
Help them figure out their calling and purpose. Encourage them in their strengths and abilities and help them choose occupations that will help them use those skills to the best of their abilities.
If they manage their money wisely and choose an occupation within their calling, work will not become idle, and it's something that highlights their positive qualities. Then they will be able to make good choices in relationships and time management because finances will not be an issue.
6. Her Health
Having chronic health issues might become a major hindrance to your daughter's overall well-being. While they are young, instill in them good nutrition, exercise, and getting enough rest. Help them to understand what it means to take breaks while instilling a healthy work ethic.
With rising economic costs, your daughter may be forced to work to make ends meet. Chronic health issues may get in the way of that, which may lead to other problems down the road. Help her to help her understand that she is important enough to take care of her body.
Take vacations regularly and help her understand from an early age that it's okay to rest and work normal hours rather than become a workaholic and jeopardize her health.
A Prayer for Her
Although there are many ways you can pray for your daughter, the suggestions above will help get you started. Make it a family affair, and pray with your daughter as well. Let her know she is a priority, and pray for her every need.
Ask for her prayer requests and let her know you're praying for her regularly. As you ask her for her prayer requests, you will notice your communication with her increase. Prayer can be the glue that bonds you and your daughter together for years to come.
---
Michelle S. Lazurek is a multi-genre award-winning author, speaker, pastor's wife, and mother. She is a literary agent for Wordwise Media Services and a certified writing coach. Her new children's book Who God Wants Me to Be encourages girls to discover God's plan for their careers. When not working, she enjoys sipping a Starbucks latte, collecting 80s memorabilia, and spending time with her family and her crazy dog. For more info, please visit her website www.michellelazurek.com.