Music Review: Mary Mary's "The Sound"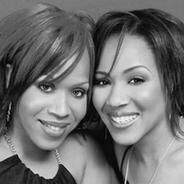 By Andy Argyrakis, christianmusicplanet.com
Before listening to Mary Mary's latest CD, The Sound (Columbia/Integrity), throw out any preconceived notions of the duo and forget the fact these crossover sensations have scored a GRAMMY, Dove, Stellar and an American Music Award. Try to shake the infectious chorus of the classic smash "Shackles (Praise You)" out of the psyche (or any other track across the duo's last three studio albums), and perhaps most importantly, forget every genre tag that's ever been associated with the twosome.
"It's praise; it's worship; it's urban; it's pop; it's folk; it's mature; it's young; it's fun; it's serious; it's all of that," says singer Erica Campbell with uncontainable enthusiasm. "It covers the whole spectrum of emotions with live horns, banging drum beats and all sorts of elements for real music lovers, and we're talking everyoneâ "12-year-olds to the mature listener to the producers who've been in the game for awhile."
The album's indeed a little bit of everything, but remarkably cohesive from start to finish, wrapped around the production of longtime collaborator Warryn Campbell (also Erica's husband). Together, the group carved out an impressive niche that's both classic and contemporary, while concurrently serving the church and ministering to the streets in a way that can only be balanced by the ambitious anomaly known as Mary Mary.
"We're enthusiastic about the fact that there's no other record on the market like this," explains Tina Campbell (Erica's sister), locked in confidence without ever coming across as cocky. "We didn't try to make the best gospel, Christian or positive record. We just tried for the best record! There are so many subjects we cover [for all audiences], and they come from a place of acting on what we believe."
From the brass stacked call of encouragement found on "Get Up" to the pleading prayer "Seattle" (which draws a parallel between rain falling on the Emerald City and God cleansing someone's soul), Mary Mary is both seeker-friendly and spiritually provocative. "I Worship You" is a passionate round of all-out praise. "I Trust You" (with guest vocalist Marvin Winans) is all about leaning on the Lord, while "Dirt" cleverly revolves around the phrase "We all need a little bit of dirt to grow."
"I think we've grown the most spiritually [and] professionally, as writers and as human beings," observes Erica of the impetus behind such varied reflections. "You face challenges, and you either rise to the occasion or let them overtake you. We've gone through seasons of trying to leave our label, not wanting to be in the group anymore, finding our egos getting in the way or feeling like there was a lack of chemistry between me, Tina and Warryn.
Awards and sales are great and fantastic, but I think the biggest growth is in us as people, and [now that we've ironed out those issues], we see the world through different eyes."
Outside of letting their lights shine on all sides of the musical continuum, Mary Mary's ministry will now permeate several other facets of pop culture. The girls' upcoming itinerary includes a bath, body and candle line called BE U, alongside continued promotion for Paint a Smile, a foundation that decorates pottery shaped like banks and fills them with money for kids needing a confidence boost.
"In an era when everybody gets nipped and tucked to look like somebody else, we're just telling people, â Be you… Be intentional, honest and the unique person God made you to be,' " Tina offers of the former. "And with Paint a Smile, it's all about giving back, making kids happy and making them feel special because we want them to know how cool they are to us and that they're worth so much."
Visit mary-mary.com for more.