Music Review: Mandisa's "Freedom"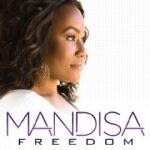 By Andy Argyrakis, cmcentral.com
Those who watched Mandisa on "American Idol" or checked out 2008's It's Christmas can vouch for her mighty vocal pipes and charisma. While those artistic attributes pop up in a few places throughout her second non-holiday CD, they're few and far between, leading to fairly bland pleasantries in both the vocal and production departments.
"My Deliverer" may lead off the record with a funky bounce in its step, but Mandisa seems restrained, and the production is a little on the stiff side. Both of those areas are even more sterile across "How Much" and "Victorious," two paint by the numbers pop tracks that are easy on the ear, but indistinguishable from current Christian radio playlists. Sappy strings aside, the singer does showcase some of her range across the powerful "He Is With You" and is even more convincing across "Not Guilty," even in spite of being a predictable ballad.
What the album is lacking in musical innovation, it does partially make up for in the lyrical department, with "Definition of Me" (a duet with Group 1 Crew's Blanca Reyes) serving as a meaningful reminder that believers should define themselves as children of God rather than a product of pop culture pressures. Longtime listeners will also give props to the performer for loosing over 70 pounds, which also ties into the album's title and is further reflected in the gospel-filled praise selection "Freedom Song." Though there's no denying Mandisa's unique ministry platform, her creative direction on Freedom falls short of expectations.
---
Used with permission