Latest Parenting Articles
There are many benefits to sending your child to a Christian school. While some of the often quoted, negative statistics about government schools should be enough, here are three primary benefits for those who may still need convincing.
Incorporating playfulness into your weekly routine opens up opportunities to pass on your Christian values, bond as a family, and guide your kids as they mature.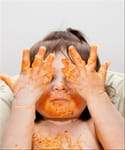 Because it's easier or perhaps out of fear, we often avoid messy situations, to the detriment of our kids.
How does a parent regulate a teen's phone, iTouch, laptop, and TV usage, especially during weekends, vacations, and summer?